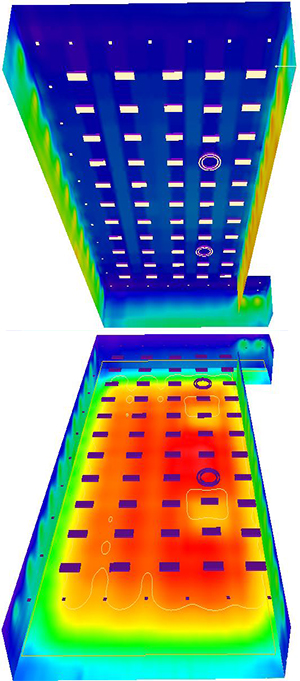 At AEE we provide a detailed analysis and computer simulation of the lighting installations. The lighting design can be directly improved in terms of illuminance distribution and uniformity, glare control, work-plane lighting optimization and color rendering among others. With AEE's expert advise the lighting layout plan can  be optimized according to the specific geometry, materials, color and interior design of the rooms. Moreover, the type of luminairs and lamps, installation details, mounting height and direction can be examined and optimized.
We provide this service to architects, interior designers and lighting consultants. By using our in-depth interior lighting analysis we can quantify the performance of the various design options and identify the most efficient lighting design.
AEE engineers have been involved in long-term research and observation of lighting design and installation practices and we know how to influence the design process in order to avoid oversizing of lighting systems, over-illumination and excessive energy consumption. AEE can improve the indoor environment quality while minimizing the capital cost for lighting equipment and associated costs.